Well, we finally feel like we're at a point where we don't think we'll be changing much more in the office/playroom.  Dare I say this room is "done"?  Well, it's done… for now.
Here is what we were looking at when we moved in:
And here's what we have now:
Hmmm. I may need to get me a wide angle lens like that MLS picture above :).
This room was the one room in this house that we were thinking "what the heck are we going to do with all of that space??".  As we talked about in THIS POST, we ultimately decided that since David works from home, we should have his office in a nice, bright room with a lot of natural light.  The other half would then serve as a playroom for Connor and any future Hamilton kids.
So we started with this room as we did any other, strip down all of the old crap (including those faux leather curtains ::bleck::) and prepare to paint!
We added some molding above the windows and doorway, of which I still realize I need to do a post about.  Soon… And we also patched up any uneven spots and nail pops on the walls.
We weren't going to do any crown molding in here, because ain't nobody got time for doing that with a cathedral ceiling.  Maybe one day… when we figure out how to do it. So I actually had to cut in along the ceiling line and be careful about it.  It's a lot easier to cut in around molding that's painted in semi-gloss, than it is to cut in along a ceiling that's done in flat, if you're wondering.  Luckily, the ceiling was in pretty good shape with some nice bright white paint, so we decided to just leave that be.  We painted the cathedral ceilings in our Maryland Home, and man that was NOT fun:
I decided I wanted to keep this room bright and reflect a lot of the natural light, so I went for a really soft grey, Benjamin Moore Stonington Grey: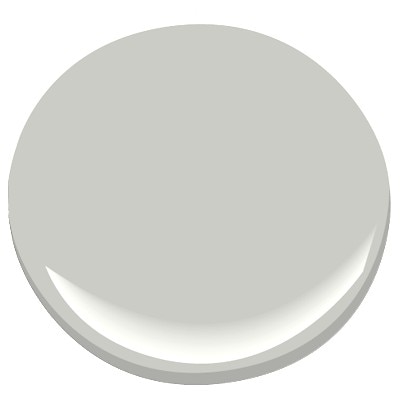 Add this to the short list of paint colors that I love because as soon as it went up on the walls, I knew we had a winner!
I'm also very proud of the fact that I can now easily cut in and paint without tape. #smallvictories
Oh, and do you want to know how long ago I did this? This long ago:
Back when I was on maternity leave, actually!  Just found that in this bundle of pictures :).
And check out our cheapest, hairiest babysitter:
So after the painting was complete, we brought in our carpet removal expert: David's Mom!
She was awesome in helping to rip up the old carpet remnants and go to town on pulling up the old staples out of the sub floor. Tip!  I found THIS staple remover at Lowe's for a couple bucks and it's been super helpful in this task.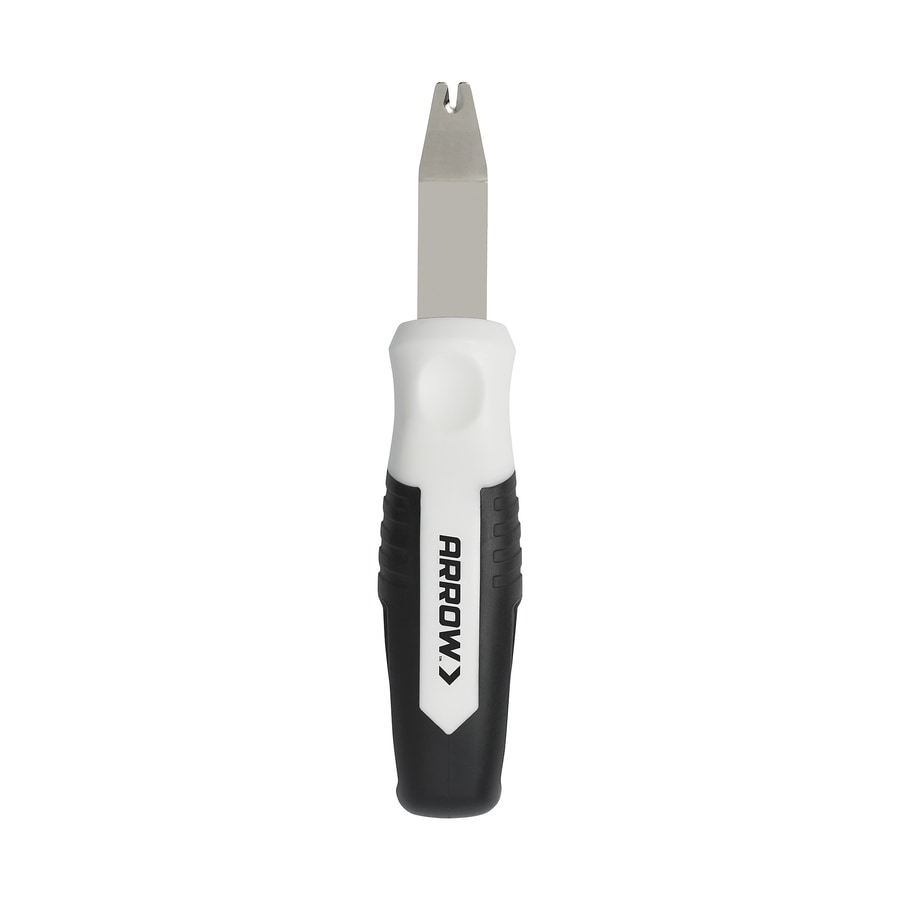 After the flooring was all cleaned up and fixed, they started laying down the underlayment.  Here's where she started to slack.
Hahaha.  In all seriousness, we're very grateful for her help in the room, flooring is a back breaking job, so we'll take all the help we can get.
When we were ready to do the flooring, she and I tagged teamed it with Connor.  I'd install, and when Connor needed to be fed, or put down for a nap, we'd trade off and eventually knocked the room out.  Oh, and David helped too, I guess 😉
After all of the hard work was done, I got to concentrate on the fun stuff… decorating!
We talked about the evolution of the office side in these posts:
And then we shared some fun playroom projects in these posts:
World travel map:  Where in the World?
Fun growth chart: A Growth Chart for our Growing Boy (and a discount code for you!)
Toddler Art Display: Fine Art Gallery
And it all came together like this:
I must say, we all love it!  It seems a bit crazy to have all of this in one room, but it really works for us.  There's something for everyone, between the desks, couch, art area, and all of the toys.
The couch color isn't perfect for the room, but it's such a comfy couch and we don't want to get rid of it.  Maybe one day the room decor will change and it'll look better in here, or maybe I'll go crazy and get it reupholstered, but it works for now.
Connor really loves his kitchen that he got from Aunt Kristen, Uncle Bill, and his cousin Mara for Christmas.  I'm teaching him to organize and wash his CSA haul every Tuesday like Mommy does ;).
The teepee and rugs were all Target finds. The plush campfire set is from and adorable handmade shop I found: Nixi Lauroo. I love them, but I also acknowledge that they're very trendy right now.  I think that's fine in a playroom that is going to be every changing because kids are ever changing! But man, that campfire set is going to be around for YEARS!  I love that thing.  The marshmallows and sticks have magnets built into them so you can take the marshmallows on and off.  Riley also unfortunately has a fondness for them too.  Here's back at Christmas time after he opened them up Christmas morning:
I really wanted to keep the room simple and serene, color-wise, because kids' toys are loud and colorful.  I knew it would be crazy in there.  I think I exacerbated this with that foam tile floor. I found that on a local Facebook resale page for $5.  It was super handy when he was crawling and learning to walk, but at this point it has just become a toy that he unhooks and destroys and KILLS MY OCD when he does it.  I must put it back together PERFECTLY hahaha.  It'll probably get put away soon to make the room feel a little less crazy.
The other side of the room has Connor's art area, and way back in the corner is my sewing area.  My mom's old sewing desk folds the sewing machine inside and hides it away from toddler fingers!  It also hides it away so that I don't have to be constantly reminded that I STILL need to sew our family room curtains. ugh.
This room has become so heavily used for us, it's almost like a pseudo family room.  Like I said before, we really had no idea what we were going to do in here since it was off to the side and so unusually large, but I wouldn't have it any other way now!
And again, some before and afters:
Longer term items for this room still include:
figuring out how to make the couch color not so out of place
taking apart that foam mat
getting a prettier but still comfortable office chair for me
I'll just be scouting Wayfair or something for years for an office chair that I like because I just don't seem to be having much luck. For now, I'll just be sitting here, like in this reused picture of us, which is still very accurate right now. 🙂
What do you think? Yay or nay?  Feedback, suggestions?
**This post contains affiliate links**