For the last few details of the wall removal posts, we just wanted to go through some of the finishing touches on the room.  Starting with the electrical and recessed lighting:
The room is pretty large, and we knew it would be our main gathering area in the evenings after dinner.  It's so large though, that for it to be properly lighted, we would have had to have way too many lamps, and I knew that just one ceiling light on each side wasn't going to cut it.  We wanted some lighting that was soft (cue a dimmer!) but lit the area evenly and well, so we (I, haha) decided on recessed lighting. The rest is David's department, so I'll let him do the talking:
We didn't realize how many decisions we had to make on the recessed lighting in the room. How many? What size? How far from each other? How far from the walls? How far from the beam? Should we treat the room as one huge room and space evenly, ignoring the beam? Or is it two separate rooms? It was a lot more difficult than we expected. There is so much conflicting advice online. One thing became pretty clear though, since the beam is not exactly in the center of the room, ignoring it to space the lights would have looked very strange. One row of lights would have been very close to the beam.
We eventually decided on 20 lights, partially because they can be purchased in 10-packs for a discount, but mostly because it seemed like good spacing to us. 20 seems like a lot, but it's a pretty large room, and going by the rules of thumb for recessed lighting, it's actually a little less than is recommended for this size. Looking at the room from the front wall, we spaced the lights 4′ apart and kept them at least 3′ from walls and where our built-ins will be going. The 4′ spacing keeps them lined up between every 3 floor joists (16″ on center). Keeping lights 3′ away from walls prevents them from creating a noticeable spotlight on the wall. From front to back, we spaced them a little differently where they were closer to the beam than the walls. I won't really go into the measurements because it is very specific to our room. Once we decided on placement the rest was pretty simple.
As with any post about electrical work, I'm going to give my standard disclaimer: The information given on this site is solely for entertainment purposes and is not a substitute for proper training. Electrical work is complex and can be dangerous if not performed carefully. Always consult an electrician as well as your local laws and codes before performing any electrical work. Hams at Home Blog, its creators, and its authors cannot be held responsible for your safety or any outcomes of performing work following the methods or suggestions on this site. Blah blah blah… Ok that's over with.
Before the drywall went up, I drilled holes and ran all of the electrical from the new light switch across all of the joists on each side of the beam. The wiring had to go around the beam and down each side as it is recessed all the way up to the second floor. I left a few feet of slack between the joists where the lights would be installed. At this point I only needed to have enough slack to get to the first light in each bay.

Once the drywall was up I measured out everything from the walls as we had drawn it out. Then I made chalk lines to find the center points and make sure everything was straight. Next I started cutting holes for the lights. I cut the holes with a drywall circle cutter which definitely takes longer than a hole saw, but is cheaper and can be adjusted to any size up to 16″ diameter. Once the holes were all cut, I pulled the slack of wiring through the holes, fished the wiring down the rows from each light to the next, then cut and stripped the wires. 
After I cut the holes I started installing the remodel light housings. We bought these housings specifically made for LED bulbs.
They come with push-locking connections to make connecting the wiring super simple. You just open the metal box, push the black, white, and ground wires into their connections for both the line-in and line-out. Then you close the box, push it up into the ceiling, and push up on the tabs with a screwdriver. That clamps the housing to the drywall.
The last step is just installing the LED bulbs for each unit. We used these bulbs and they worked out great.
Just make sure you install a dimmer switch because they are BRIGHT! They are 11 Watt bulbs but we really never use them at more than 60% brightness. Even at full power, twenty of them use less energy than just three 75W halogen bulbs and put off just as much light each. They also come with a conversion kit so that they can attach to regular screw-in recessed lighting housings. If you already have recessed lighting and you want some more efficient bulbs, I highly recommend them.
And now, back to the fun Carolyn stuff…
Once I knew he was done playing with the ceiling and cutting holes, and fixed all of the nail pops, it was time to paint.  I don't usually use primer because I like to use "Paint and Primer in one" paint to make my life easier, but there were a lot of spots in this room that we were painting on raw, fresh drywall, so I wanted an even coat without any "flashing".  Flashing is a visible difference in the paint finish on areas that were primed properly and others that weren't.  Trying to make it flawless here people!  I put just one coat of primer on the ceiling and walls, and like to use the Zinsser stuff from Lowe's.
When painting, I work from top to bottom.  Starting with the ceiling, we use just normal white ceiling paint by good old Benjamin Moore.  I decided to buy a big 5 gallon bucket of it this time since we'll be using it all over the house.  Luckily, I bought it when I had Connor with me, and the store associate carried it out to my car for me 😉
Also, pro tip: we like to do all the painting before we do the flooring, since we're ripping up the flooring anyway.  Yay for laziness and not putting down drop cloths!
Once the ceiling is done, Dave comes in and does the crown molding. There are a ton of tutorials out there, so I don't think it's worth getting into the details on this, but it's not for the faint of heart.  I think he's getting to be at expert level now with all of the practice he's had.
Also, another pro tip:  Measure and cut all of your molding first, but don't install it.  Paint it before you install it because it is SO much easier to paint when it's on the ground.
Once it's installed, you can just do the quick touch ups on the nail holes.
After the molding is touched up and caulked, I'll paint the walls so that I can cover any messes from the caulk.
I really wanted to keep this open room, bright and white to keep it feeling big, since the flooring was so dark.  I knew I was going to want some darker furniture and have some navy accents in here, so it was important to me to keep the walls white.  I didn't want it to be a stark bright white, so I chose Benjamin Moore Simply White, which is also the same white that we used in Connor's room.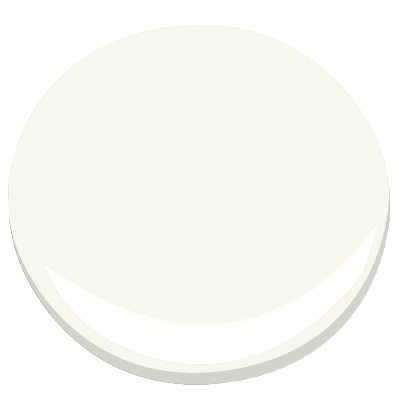 White enough, but slightly cooler than the molding paint so that the molding can still shine.
I do eggshell for walls, flat for the ceiling, and semi-gloss for molding.  I used to do satin for the walls, but gave up on it after awhile because it makes all of the missed nail pops way to obvious in certain light. Eggshell is the perfect sheen for walls to me because it gives just a little shine, but not enough to make imperfections stand out, while also still being easy to clean.
Unfortunately, I'm a little unsure about it still, now that it's done. 🙁
I love it in Connor's room, but for some reason it feels a little yellow to me in here.  Don't worry, I'm not making any hasty decisions to repaint it just yet.  I think the dark brown floor is giving it a yellow undertone on the walls. The very orangey paint in the kitchen and the cabinets probably aren't helping either. I'm going to wait until we get a rug, furniture, and curtains in here to see if that changes anything.  Cross you fingers for me that it all turns out fine, so I don't have to repaint!