That's what David said to me as I finished cutting in the paint around the window in the first floor bathroom over Christmas break and told him "well that's not what I was expecting."
A few years ago when we lived in our SC house, I picked out this beautiful navy blue for the fireplace wall and a wall in our dining room.
I wanted a color that would complement it pretty well, so I chose a pretty grey that looked great next to that navy blue on the paint cards.  I should have realized my mistake there, but I didn't.  I went ahead and bought that 5 gallon pail of that grey paint, because that was going on the rest of the walls in that main room.  That was a BIG room.
As I finished painting one of those grey walls that met up to the navy blue, David walked into the house from the garage and saw me sitting on the floor, in my ugly paint clothes, looking super sad.  He looked worried and asked "what's wrong??"  I replied, "I hate it."
That grey color looked so good on that damn paint card next to the navy blue.  But once I got it on the wall, I hated it.  It looked so dark. (I realize it doesn't look that dark in these pictures, but in person, it was much darker.) I wanted a light and airy grey since we had 2 navy blue walls, and it was so much darker than I was going for.  And I had 5 friggin gallons of it.  In the spirit of renovation and flipping the house, I wasn't about to just trash the paint and buy more.  I just sucked it up and kept going.  But, it was mainly because I'm just so cheap (and I knew we wouldn't be living there forever).  Of course, my ever supportive husband (who may I mention is partially colorblind… for real) told me he thought it looked great! I surely love that man.
So, here I am a few years later.  After learning from that situation, swore to myself that if I was going to go for a new color, that I would try out some sample paint on the wall before committing to something.  Well, first of all, as much as I love Benjamin Moore paint, those samples are $14 EACH.  Are you kidding me?  No thanks. Secondly, have you ever tried to go shopping with a child who isn't the biggest fan of the car seat?  At this point in my life, I try to limit the amount of shopping trips we have to do to the minimum essential, and a 30 minute drive or less because that's his happy limit. So buying paint was going to turn into a one time trip for this mama.
So I did my research.  The first floor bathroom is a pretty small room with a vanity, toilet, and stand up shower. It gets decent light from the window, and I chose to apply a frosting film to it so that I didn't need to deal with curtains.  Otherwise, anyone hanging out on the deck gets a pretty good view of you using the toilet!  The previous owners painted over some ugly green color with another ugly tannish-brown.  It was awful.
I'd absolutely love to do a full renovation on it, as this is the main bathroom that all of our guests use. But it has a shower in it.  And I can't decide if I want to keep it or ditch it.  Our house has 4 bathrooms in it.  All of them have showers.  It seems a little overkill, don't you think?  And who wants to clean 4 showers??
The upside – our guest room is just steps away so its nice for the guests to have a shower on the same floor that they're staying.  The downside – it takes up a decent amount of space in the laundry room/pantry area, that I'd love to widen up to use as a mudroom type area since that is the main entry and exit for the dogs to go outside (and I'm sure Connor in a few years).  I don't know, what do you think? I need opinions.
Because I can't quite make up my mind yet, I decided to go for a mini makeover of this room, give it a new coat of paint and add in some new hardware.  My research that I mentioned earlier was for the paint.  EVERYTHING in the room is beige.  The vanity cabinet, the vanity countertop, the shower, and even the toilet.  I learned in our first house that I wasn't very good at picking out paint colors to go with beige… I ended up with this:
Yellow and beige are not a good combination, in case you were wondering.  Yuck.  So I researched.  I wanted something light an airy, and something that complemented beige. I know I'm probably on the grey paint bandwagon at this point, but it really does look great with everything.  With beige, you can't just use a grey though, you need something with some complementary undertones to the beige.  I thought that a greenish or blueish would complement it pretty well, so I found a pretty grey that has some nice blue and green undertones: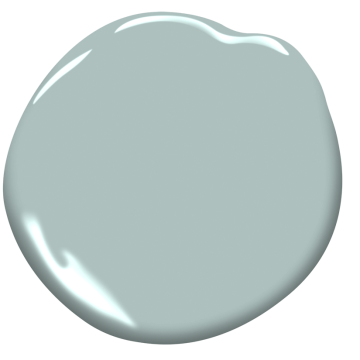 Benjamin Moore Wedgewood Grey. I thought with the good light in the room, it would not look too dark, and not too grey.
Well, as soon as I put it up:
I got sad.  It's definitely not what I was expecting.  And David wondered if it was as bad as sitting on the floor in SC.  It's not. It's a lot darker than I imagined it was going to be.  I can't tell if its because the natural light from the window isn't as bright as I thought, or the beige just brings out too much blue.  But I think overall it looks fine, just not what I was really going for.
So I'm fine with it. Like I said, this was just a temporary makeover until I can make up my mind on the shower.  I also really want some art in there and need to find something that looks cute but isn't pricey. Our old beachy 'wine & design' art doesn't quite fit in anymore. We added in some new hardware too. Some hooks instead of the towel rack for shower towels for the guests:
And because I can't live without these types of toilet paper holders.
They're genius!  I require them in every bathroom.  Hopefully it encourages people to change the roll when it runs out, rather than just leave a new one laying on top of the empty one like my brother and sister did growing up. That used to piss me off so much.  Do you guys even read my blog?? Sometimes I'd just let it go to see how long they could live with it like that, and we'd go through another whole roll.  If you're one of these people, you deserve a special place in hell. 🙂 Just kidding. Kind of.
Overall, it just goes to show that even after painting three houses, I'm still no expert on picking out colors. It happens.  Every room is different.  Every wall is different.  Every color on a sample card looks different when it goes up on a wall.  And I'll just try to keep on learning and get better with every room.
Do you have experiences with paint color regret?  What do you think we should do with our shower?  Ditch it or keep it?