I was so excited to do a nursery.  I mean, check out our [facebook] birth announcement:
Geez, I kind of miss my long hair. 🙂  Anyways, when we found out we were having a baby I started planning right away.  I loved the outdoor/adventure theme because it could easily be for a boy or a girl and I always knew that no matter what gender our baby was that the room was going to incorporate navy blue in it… my favorite color. I always had a blue room growing up, usually navy, sometimes a sky blue on both the walls and ceiling complete with huge white clouds (sorry Dad!). Although, I guess I did go through that Little Mermaid phase at one point…
I also wanted to give it a touch of a deer theme because we pretty much have daily visitors in our yard in the fall/early winter:
I couldn't wait for our little boy to look out the window and see them and get just as excited as I do!  I feel like you have to be careful with deer decor though, because it can easily turn into a hunting theme.  That's totally fine if that's your thing, but it wasn't what I was going for.  So I had some ideas in my head, and started scouring Pinterest for inspiration. I saw this pin and decided it was going to be the basis for the rest of the decor.
Navy blue, woodland/adventure, with a touch of our visiting deer family. I was thinking about doing a shiplap wall as the focal point, like we did in our old SC powder room, but this time in navy.  Here's what I came up with as my idea board:
The only furniture piece I was set on at the beginning was the crib.  One of my favorite blogs, Young House Love, did a whole post about their search for an affordable, eco-friendly crib, and I loved the look.  We had those same values, so since the research has already been done, we took their advice.
We had spent a decent amount of time on craigslist searching for a dresser that we could refinish for storage and a changing table.  I was just about to give up, when David happened upon the Ikea dresser, seen above, for 60 bucks.  I wasn't wowed at first, but then I thought that the grey color actually might look pretty nice with the woodland/navy blue theme we had going on.  Then we checked out Ikea's website and saw that this Hemnes dresser runs for $250!!  And they no longer make the gray color.  What a deal.  We drove out that same day to pick it up and just placed in it the nursery.
Anyone want a NY Jets switch cover???
When we fist moved into our Maryland House, we got a lot of hand me down furniture from both my parents and David's parents.  One of them was this side table that we've been toting around with us through all of our moves.  I think it used to be a side table in my sister's room growing up?  I can't remember. I never really knew what to do with it, and it usually ended up in our garage as a storage piece.  Well, I'm glad we kept it because I decided it would be the perfect side table to go next to a glider for those late night feedings.
As you can see it, it was pretty beat up and needed some TLC.  I had some ideas in mind, see if you can find it on the idea board above!
I decided for this house, that since it is going to be our forever home, that we were going to put up the money to use high quality paints, with no VOCs.  Benjamin Moore fit our requirements, and we went ahead an picked out some colors for the room.  The shiplap would be the navy blue, as mentioned before, and I matched it close to what we had on our fireplace wall in SC.  Turns out the very popular, Hale Navy, was a close match.  Man, it's such a pretty color.  I chose basic white in semi-gloss for the molding, and to keep the rest of the room simple, I chose Simply White to make sure there was some variation between the molding and the walls.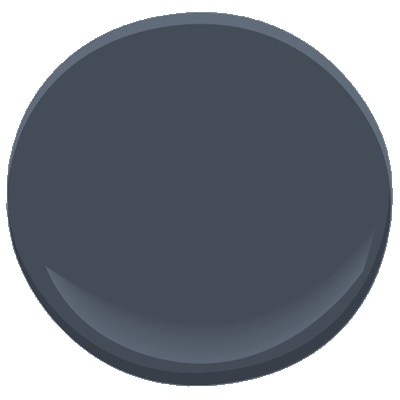 And because we never can make things easy, we decided that again, since this is our forever home, we were going to replace all of the molding, with big, chunky, molding, and also upgrade the doors. Oh, and also replace all of the flooring, too.
So, stay tuned for our next post to see how we put it all together!